Pope Francis fuels new speculation on future of pontificate
ROME (AP) — Pope Francis added fuel to rumors about the future of his pontificate by announcing he would visit the central Italian city of L'Aquila in August for a feast initiated by Pope Celestine V, one of the few pontiffs who resigned before Pope Benedict XVI stepped down in 2013. Italian and Catholic media have been rife with unsourced speculation that the 85-year-old Francis might be planning to follow in Benedict's footsteps, given his increased mobility problems that have forced him to use a wheelchair for the last month. Those rumors gained steam last week when Francis announced a consistory to create 21 new cardinals scheduled for Aug. 27. Sixteen of those cardinals are under age 80 and eligible to vote in a conclave to elect Francis' successor. Once they are added to the ranks of princes of the church, Francis will have stacked the College of Cardinals with 83 of the 132 voting-age cardinals. While there is no guarantee how the cardinals might vote, the chances that they will tap a successor who shares Francis' pastoral priorities become ever greater.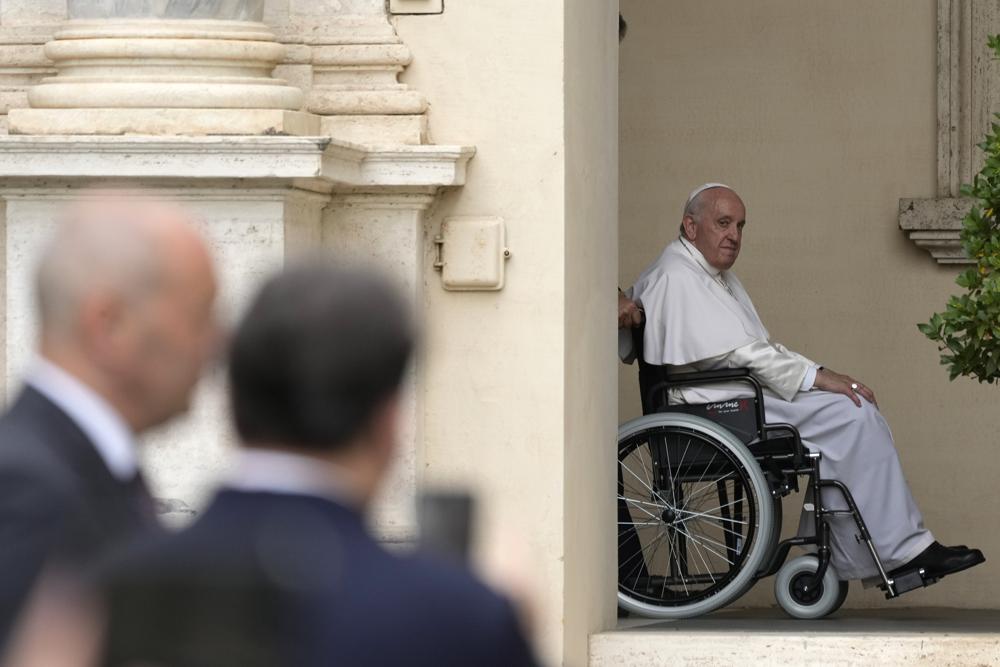 In announcing the Aug. 27 consistory, Francis also announced he would host two days of talks the following week to brief the cardinals about his recent apostolic constitution reforming the Vatican bureaucracy. That document, which goes into effect Sunday, allows women to head Vatican offices, imposes term limits on priestly Vatican employees and positions the Holy See as an institution at the service of local churches, rather than vice versa.Francis was elected pope in 2013 on a mandate to reform the Roman Curia. Now that the nine-year project has been rolled out and at least partially implemented, Francis' main task as pope has in some ways been accomplished. All of which made Saturday's otherwise routine announcement of a pastoral visit to L'Aquila carry more speculative weight than it might otherwise have. Notable was the timing: The Vatican and the rest of Italy are usually on holiday in August to mid-September, with all but essential business closed. Calling a major consistory in late August to create new cardinals, gathering churchmen for two days of talks on implementing his reform and making a symbolically significant pastoral visit suggests Francis might have out-of-the-ordinary business in mind. "With today's news that @Pontifex will go to L'Aquila in the very middle of the August consistory, it all got even more intriguing," tweeted Vatican commentator Robert Mickens, linking to an essay he had published in La Croix International about the rumors swirling around the future of the pontificate. The basilica in L'Aquila hosts the tomb of Celestine V, a hermit pope who resigned after five months in 1294, overwhelmed by the job. In 2009, Benedict visited L'Aquila, which had been devastated by a recent earthquake and prayed at Celestine's tomb, leaving his pallium stole on it. No one at the time appreciated the significance of the gesture. But four years later, the 85-year-old Benedict would follow in Celestine's footsteps and resign, saying he no longer had the strength of body and mind to carry on the rigors of the papacy.
Source
PROPHECY OF MELANIE ON TWO POPES:
"I didn't see, I don't see any Great Pope or Great Monarch before an extremely great tribulation, horrifying, terrible and general for all Christendom. But before that time, twice there will be a short lived peace; TWO shaky, servile, doubtful popes" Mélanie
1. Two Popes. (13 March 2013)
2. Manifestation of the Forerunner to the Antichrist (21 October 2019)
3. Death of Two Popes
(_ _ / _ _ / 2022)
4. NIGHT ILLUMINED BY UNKNOWN LIGHT DURING NEW MOON
(_ _ / _ _ / 2022)
5. Start of Thirty Five Years Worth of Chastisements
(_ _ / _ _ / 2022)
6. Rise of the Political Power of the Forerunner to the Antichrist
(_ _ / _ _ / _ _ _ _)
7. Creation of Forerunner's Nationalist Army
(_ _ / _ _ / _ _ _ _)
8. Persecution of the Catholic Church by the Forerunner and His Nationalist Army
(_ _ / _ _ / _ _ _ _)
9. Murder of Fatima Pope & Faithful on top a Steep Mountain by Forerunner and his Army.
10. The Rise of the Great Monarch & Great Pontiff (near the end of the 35 year Chastisement)
11. The death of the Forerunner to the Antichrist.
REMEMBER - THE 35+ YEARS WORTH OF CHASTISEMENTS DO NOT START UNTIL THE TWO POPES ARE DEAD......
"The great chastisement will come, because men will not be converted; yet it is only their conversion that can hinder these scourges. God will begin to strike men by inflicting lighter punishments in order to open their eyes; then He will stop, or may repeat His former warnings to give place for repentance. But sinners will not avail themselves of these opportunities; He will, in consequence, send more severe castigations, anxious to move sinners to repentance, but all in vain. Finally, the obduracy of sinners shall draw upon their heads the greatest and most terrible calamities. Mélanie
"We are all guilty! Penance is not done, and sin increases daily. Those who should come forward to do good are retained by fear. Evil is great. A moderate punishment serves only to irritate the spirits, because they view all things with human eyes. God could work a miracle to convert and change the aspect of the earth without chastisement. God will work a miracle; it will be a stroke of His mercy; but after the wicked shall have inebriated themselves with blood, the scourge shall arrive Mélanie
"What countries shall be preserved from such calamities? Where shall we go for refuge? I, in my turn, shall ask, What is the country that observes the commandments of God? What country is not influenced by human fear where the interest of the Church and the glory of God are at stake? (Ah, indeed! What country, what nation upon earth?) In behalf of my Superior and myself, I have often asked myself where we could go for refuge, had we the means for the journey and for our subsistence, on condition that no person were to know it? But I renounce these useless thoughts. We are very guilty! In consequence of this, it is necessary that a very great and terrible scourge should come to revive our faith, and to restore to us our very reason, which we have almost entirely lost. Mélanie
MARIA OF THE CROSS,
Victim of Jesus nee MELANIE CALVAT,
Shepherdess of La Salette
"I protest highly against a different text, which people may dare publish after my death. I protest once more against the very false statements of all those who dare say and write First that I embroidered the Secret; second, against those who state that the Queen Mother did not say to transmit the Secret to all her people." Mélanie