10 MUSLIM TERROR ATTACKS In FRANCE SINCE MUSLIMS & CATHOLICS UNITE IN ATTENDING Holy Sacrifice Of The Mass In Memory Of Father Jacques Hamel
The necessity of visible Sacrifice, and the end, or cause why it was instituted, and used.
Two things, have always been much recommended by God, and highly esteemed by men of all sect, and sorts, who firmly believed that there was a God who extended his providence over mankind; first the honor of God, and peace with him; and secondly unity, peace and society amongst themselves. And these two, have always been, chiefly maintained amongst men, by a particular, visible Sacrifice, first offered unto Go upon an Altar, as a scared sign of the invisible Sacrifice of their hearts unto him; and after eaten, or communicated amongst themselves. By offering visible Sacrifice upon an Altar unto God, they solemnly protected the sacrifice of their hearts unto him, publicly adored him with the honor of Latria, or divine worship, which is due only unto him; and visibly made profession of peace, unity, and society with him, and amongst themselves: and by eating of the same Sacrifice, which had been offered unto God, they ratified and established the same peace, and unity, as partakers of that meat, with they had offered unto God for a sacred sign of common union, as generally manifest by experience, in all sects, and sorts of people, of former ages, who firmly believed, there was a God, and that his Providence was not wanting in the government of mankind. Anonymus Eremita 1637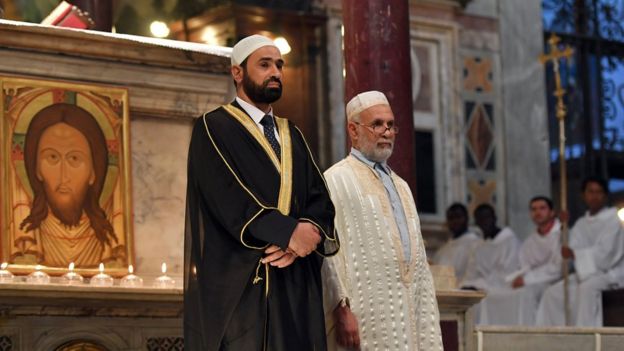 MUSLIMS ATTEND VISIBLE SACRIFICE OF THE HOLY MASS FOR SLAIN CATHOLIC PRIEST TO SHOW UNITY:
ITS A FALSE UNITY - A FALSE PEACE.
THE FRUITS OF THIS VISIBLE SACRIFICE OF THE HOLY MASS ARE 10 MUSLIM TERROR ATTACKS IN FRANCE SINCE THIS VISIBLE SACRIFICE OF THE HOLY MASS:
19 August 2016 Stabbing Dead 0 Injured 1 A rabbi was stabbed in Strasbourg by a man reportedly shouting Allahu Akbar.
30 August 2016 Stabbing Dead 0 Injured 1 A policeman was wounded in a melee attack in a police station. The assailant was arrested by other policemen. He tried to kill the policeman because "It represents France".
2 September 2016 Stabbing Dead 0 (+1) Injured 2 A 29-year-old attacker injured a nurse and police were called to the scene, upon which a policewoman was seriously injured. The perpetrator was shot dead by another officer and the incident is being described as a 'terrorist incident'.
4 September 2016 Stabbing Dead 0 Injured 2 A prisoner in a radicalization prevention unit wounded two prison officers. The detainee first assaulted a supervisor with an artisanal weapon. A second supervisor, posted at the entrance to the exercise yard, was also injured when he tried to help his colleague.
4 September 2016 Melee attack Dead 0 Injured 2 Two Islamists attacked an author and his son, with blows to the head and stomach. The author, who wrote a book on 'Jihad', lost consciousness, and has now requested full police protection on his premises. Both victims were called 'filthy whites' and the author's daughter was also verbally abused.
8 September 2016 Stabbing Dead 0 Injured 1 A terror raid took place in Essonne. A suspect attacked a police officer with a machete and was apprehended by his colleagues. The officer was injured in the shoulder and was subsequently hospitalized; though the injuries were reportedly not life-threatening.
3 February 2017 Stabbing Dead 0 Injured 1 2017 Paris machete attack. A soldier near the Louvre museum opened fire on a man who attempted to enter the museum with a machete. The man was shouting "Allahu akbar" and injured the soldier's scalp.
16 March 2017 Letter bomb Dead 0 Injured 1 A letter bomb probably sent by Greek anarchist organization Conspiracy of Cells of Fire exploded at the French office of the IMF injuring one person.
18 March 2017 Shooting Dead 0 (+1) Injured 1 March 2017 Île-de-France attacks: A policeman was shot and injured in the Paris suburb of Garges-les-Gonesse by an attacker who was later shot dead at Orly Airport near Paris after trying to grab a soldier's firearm.
20 April 2017
Shooting Dead 1 (+1) Injured 3 2017 shooting of Paris police officers. An Islamist opened fire on police officers on the Champs-Elysees. ISIS claimed responsibility.
Source Wiki
Granted the body count is low compared to other periods of terror attack there were 4 deaths & 16 wounded in the attacks. But still a visible Sacrifice is suppose to unite men. This Mass had the opposite effect - why?
Is it because those who attended the visible Sacrifice did not have the correct invisible sacrifice of their hearts to God?
God was not pleased with their interior Sacrifice?
God was not pleased with the Visible Sacrifice to God because the Visible Sacrifice is the New Mass which is a watered down version of the True & Holy Sacrifice of the Latin Mass?